This post is part of "Because Prompts are Fun" hosting by Tales from the Nursery and iNeed a Playdate.
I love to think that I'm not like every other mom blogger out there but I do fit into the bunch. Everyone has their own unique story whether they tell it or not. I know I've touched on having a large family but I don't really talk about my family much since we don't all live in the same city. So here we go:
People have asked me why my tagline says "Tidbits of life into a bi-racial family" and even though I feel like I shouldn't have to explain.. I mean look at my picture… but it goes deeper than that. I am the second oldest of a large and odd family. I say odd because I don't have any full brothers or sisters. Every single one is a half or step. I am the closest with my mom's kids. She had 5 including me and I'm the second oldest. We all see ourselves as one family and always have, because our lives were never that easy. Outside of them, I have a half brother (with my dad) and 5 step sisters. I say that I have 11 brothers and sister though because when I was about 12 or 13, my step brother died of cancer. He was 5 at the time.
I also grew up not really knowing my father. I didn't actually meet him until I was about 10. Backstory: My mom was married when I was born so I got her husband's last name. They went through a divorce and when custody got banged out, he got custody of me. I found out in the 5th grade that he wasn't my father and was introduced to my biological father a week later. Yes, finding this out did change my life completely but I don't regret finding out at this stage in life. Plus, I know it was hard for me but there is no telling how hard it was for my mom to decide when to tell me.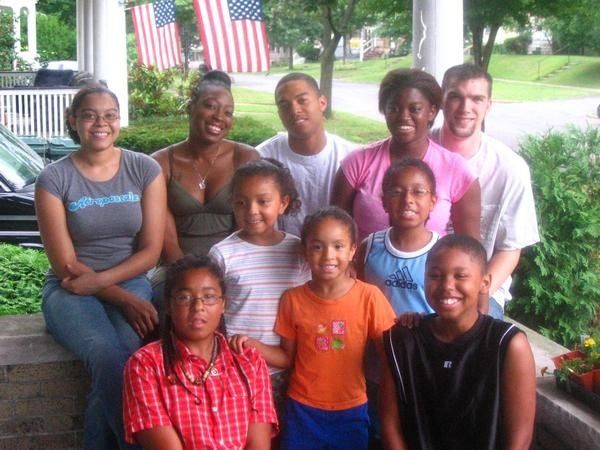 This happens to be the last family photo we've taken (I think) of my mom's side of the family. Over 6 years ago. Yeah the little boy in the front is now 18. Don't ask me how that happened! 
Anyway, since I grew up in a very diverse family, I wasn't afraid to date outside my race. So that hunk of man in my header is who won my heart. I wear the "bi-racial" family badge with honor, regardless of what anyone says. Its not just part of my family, but part of my history.
I am in the process of changing my tagline to fit my blog but I wanted to explain it before it changes.