So i decided that today will be a non-complaining letter of intent day.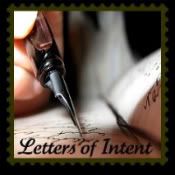 Brought to you by the Foursons
Dear friends:
Thanks for being here for me. I know I haven't always been the easiest person to get along with… wait, yes I have. Lol. Anyway, thanks for hanging with me through the good, the bad, the ugly, the scary and the awesome. I believe that there is a reason someone is in your life and I'm grateful that you are even if its just for a short time.
Sincerely,
Your friend
Dear Blog readers:
Thanks so much for reading my blog and being around to listen to me ramble on and on without even talking. I appriecate that someone else finds me interesting and comes back for more. Special thanks to those that comment, I love reading any comments that people would like to shell out. And for those who don't comment, I appreciate you too. It only takes a minute to read what I've written for the day and you took that time. Thanks so much!
Sincerely,
Your "trying to write everyday" writer
Dear husband:
I love you! Thank you for being my rock everyday and for putting up with my craziness day in and day out. Even though you *try* not to show it, I know I annoy you atleast once a week and instead of yelling at me (like i do you) you just wait until it passes. Thank you for trying to get me everything I want and if you can't, working hard so that at some point I can get what I want. I also thank you for understanding that I just want to know what you are doing and that your safe or that I just want to spend time with you, not that I'm trying to be controlling and keep you from having a good time. Thank you for almost 7 years of marriage, and over 9 years of being together. They said we wouldn't make it, and we're still here. Thank you for going to school and working because I know you are doing it for Hayden and I. We both love you.
Love,
Your wife